First Baptist Church update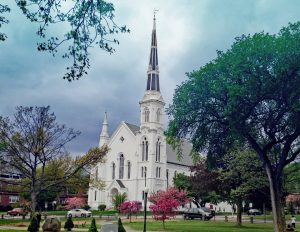 The Middlesex Concert Band is sad to share news about a devastating fire that completely destroyed the First Baptist Church in Wakefield.  The church has been our rehearsal space for many years and the First Baptist community has always been extremely supportive of us.  Our hearts go out to the congregation and everyone affected by the fire.  We are grateful to the more than 100 firefighters who came to assist with the 7 alarm blaze, especially the three firefighters who received non-life threatening injuries.  Luckily no other injuries were reported.
More details are available at the Boston Globe or the Wakefield Patch sites.
Thank you to Tom Bankert and the Wakefield Public Schools for making rehearsal space available for us for the remainder of 2018.
The band rented a closet at the church to hold equipment needed for rehearsals. This included 90% of our percussion equipment, including a relatively new set of Tympani, and many individual parts of sheet music.  We are grateful to our friends, family, and the community for all of the help they provided in raising funds to replace everything.